Latest odds show charming Alfie more likely to be next 007 over Idris Elba and Jamie Dornan as his odds are slashed in half from 25/1 to 12/1
Lucien Laviscount is one of the new names in contention to be the next James Bond, according to the latest odds via Fair Betting Sites.
The Emily in Paris heartthrob is now 12/1 to be named the next 007 for the next movie with Daniel Craig stepping down after 18 years, with his odds slashed by over half from 25/1.
Laviscount, who has risen to international fame in the Netflix hit as the loveable Alfie, is now being tipped among the likes of Tom Hardy (9/1) and Chiwitel Eljofor (12/1) and ahead of actors linked with the role over the long term including Idris Elba (16/1) and Jamie Dornan (40/1).
Avengers and Kick-Ass actor Aaron Taylor-Johnson remains the 2/1 favourite to be the next Bond.
Analysts at Fair Betting sites have assessed all previous Bonds to reveal that the average age when first cast in the role is 37, with the average height 1.85 metres.
Though Burnley-born Laviscount is closely aligned at aged 30 – just one year younger than iconic Bond Sean Connery when first landing the role – and 1.78 metres, identical to current 007 Daniel Craig.
A spokesperson for Fair Betting Sites said: "In recent years, there have been many names bandied around to replace Daniel Craig as James Bond. However, Mr Laviscount, we were not expecting you.
"The once-Waterloo Road actor has propelled himself into international limelight off the back of his suave, charming portrayal of London cheeky chappy Alfie in Emily in Paris and many will think the 30-year-old fits the bill to become the next 007.
"The British actor stacks up pretty well in our ultimate Bond checklist, coming in at exactly the same height as Daniel Craig, only a few inches off the average 007 with tender age, in comparison to other frontrunners like Idris Elba, another plus.
"However, when it comes to a full house, it's superheroes Aaron Taylor-Johnson (2/1) and Henry Cavill (5/2), who tick every box, but if the recent odds movement is anything to go by, the casting directors could still believe Laviscount's versatility as an actor and sharp look in a suit will give him the edge.
"However, despite seeing his odds shorten, to jump ahead of many big names that have been rumoured for the role, he hasn't hit the full house in our ultimate Bond checklist."
Next James Bond – odds via FairBettingSites
Aaron Taylor-Johnson – 2/1
Henry Cavill – 5/2
Rege-Jean Page – 6/1
James Norton- 7/1
Tom Hardy – 9/1
Lucien Laviscount – 12/1 (was 25/1)
Chiwitel Ejiofor – 12/1
Idris Elba – 16/1
Richard Madden – 18/1
Aiden Turner – 25/1
Jamie Dornan – 40/1
Harry Styles – 80/1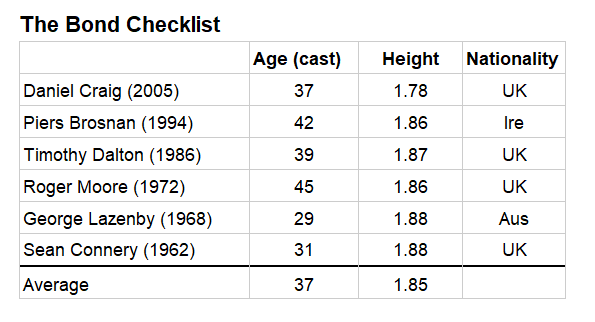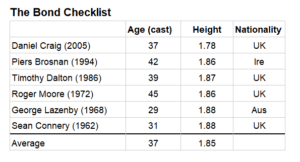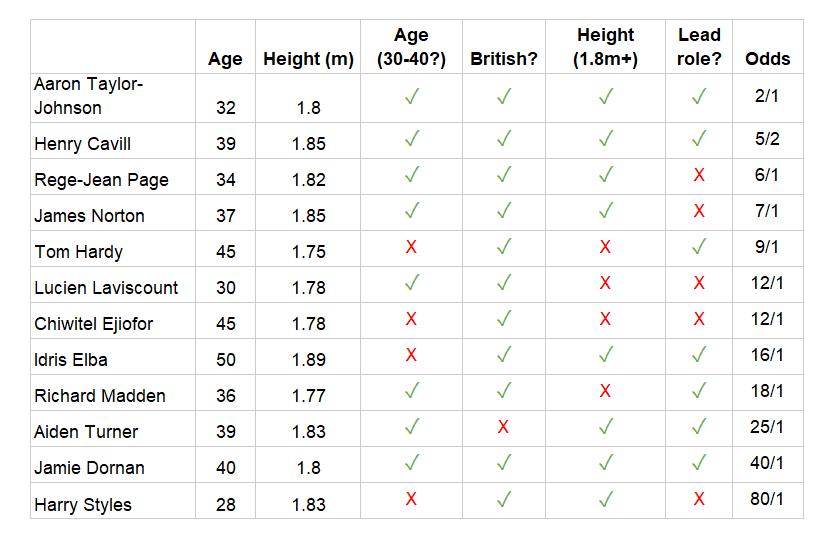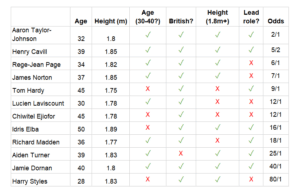 Was this article helpful?